How to add a PDF417 Barcode ActiveX to a MS Access
In a Microsoft® Access report in design mode, choose insert - ActiveX control. After this you may size the control as necessary. To change the properties of the control such as barcode height and symbology type, right click on the control and choose properties.

To bind the control to a data source, enter the table and field or formula in the control source field.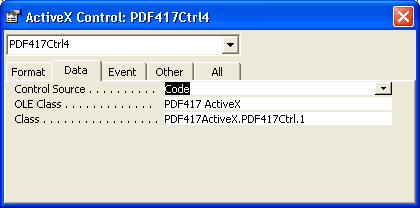 The proper barcode will show up after the report is saved.